Apr 15, 2016
In this newsletter, we talk about the GTC show and NAB show that both took place in April. We also link to Tom's IT PRO's independent review of the FSA-SAN.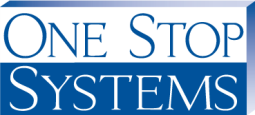 Expanding the Limits of HPC
GPU Technology Conference
In the beginning of April, One Stop Systems showed the GPUltima at the GPU Technology Conference (GTC). The GPUltima is a petaflop computational cluster in a rack that contains up to eight nodes with each node containing up to 16 accelerators and one or two dual-socket servers. The full rack can house up to 128 GPU cards. Customers can build up to the full rack, one node at a time, depending on the number of GPUs required.
One Stop Systems: The FSA 200 Review by Tom's IT PRO
"It becomes clear after flipping through our library of enterprise storage product evaluations that the cutting-edge of storage performance makes an appearance in our busy lab every day, and after a while it is easy to become a bit jaded with the latest "fastest-ever" product. However, occasionally something comes along that is truly exciting, as was the case with the One Stop Systems Flash Storage Array (FSA) 200 and the 64 PCIe SSDs that accompanied it," wrote Paul Acorn, Contributing Editor at Tom's IT PRO. To read the full review on Tom's IT PRO website, click here.
NAB Show 2016
We are excited to be exhibiting at the NAB Show taking place April 18-21, 2016, in Las Vegas. Register here using code LV6439 for only $25. Be sure to stop by Booth SL13406 to see PCIe expansion modules and appliances we will be exhibiting that can be used in a variety of broadcasting and audio-video applications.