Dec 23, 2015
In this newsletter, we include the video of Steve Cooper's talk in the Mellanox Partner Theater at Supercomputing 2015 in Austin. We also announce a review with Tom's Hardware coming in early 2016. We wish all of our customers a happy holiday season and we'll see you all after the New Year!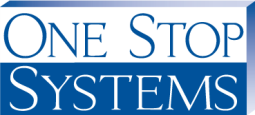 Expanding the Limits of HPC
GPUltima: The Ultimate in GPU Network - SC'15
Steve Cooper of One Stop Systems presents in the Mellanox Theater during Supercomputing Conference 2015 in Austin, TX.
Click here to learn more about The GPUltima.
Tom's Hardware Review of the FSA Out Next Year
In early 2016, Tom's Hardware will be testing the OSS Flash Storage Array (FSA) and our 2U Expansion Optimized Server (EOS) with two types of flash memory (Intel and SanDisk).
Here's a picture of the flash Tom's Hardware posted.
Season's greetings from the entire crew at One Stop Systems. 
We wish you a very Happy Holiday season and a peaceful and prosperous New Year!