Feb 24, 2016
In this newsletter, we talk about the upcoming Oil and Gas Conference at Rice University. We also discuss how OSS has been named NVIDIA Partner Network Preferred OEM.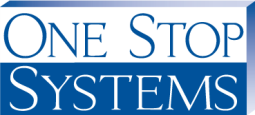 Expanding the Limits of HPC
Rice University Oil and Gas Conference - March 2-3
The Oil and gas industry is using cutting edge technology, like high performance computing (HPC) servers, compute accelerators and flash storage arrays for applications such as seismic processing, seismic interpretation and reservoir modeling. Oil and gas companies use complex algorithms to process, analyze and visualize huge seismic data sets. In the past, these data sets took lengthy amounts of time to process, slowing down the entire oil and gas operation.
Today, seismic processing and interpretation can be sped up by using GPUs because GPUs perform well for the parallel computations used in these applications. Huge speed increases have been achieved by using NVIDIA Tesla GPUs. Many oil and gas companies have already been using GPUs for parallel processing of large seismic data sets. The algorithms used were designed with GPUs in mind, so adding they can take advantage of the additional compute power that comes from adding even more GPUs.
The GPUltima is a petaflop computational cluster in a rack that contains up to eight nodes with each node containing up to 16 accelerators and one or two dual-socket servers. The full rack can house up to 128 dual wide GPUs. Customers can build up to the full rack, one node at a time, depending on the number of GPUs required.
The Oil and Gas Conference hosted by Rice University is coming up at the beginning of March. One Stop Systems is a Silver Sponsor and we will show The GPUltima in Houston. Be sure to stop by our table if you're at the show.
One Stop Systems Named NVIDIA Partner Network Preferred OEM
One Stop Systems, Inc. (OSS), a leading provider of next-generation GPU-based clusters for high performance computing applications, has achieved Preferred OEM status in the NVIDIA Partner Network (NPN). Specifically, the designation recognizes OSS's achievement in accelerated computing, including technical expertise; customer service; and the ability to design, implement, and maintain best-in class accelerated computing solutions from NVIDIA.
"The NVIDIA Partner Network brings together those who collaborate to inspire and delight customers with world-class visual computing solutions," said Shanker Trivedi, vice president of Enterprise Business, Worldwide Field Operations at NVIDIA. "We welcome One Stop Systems, well known for their high performance computing business, into our program."
One Stop Systems is listed on the NVIDIA Tesla "Where to Buy" page, www.nvidia.com/object/where-to-buy-tesla.html.