Jan 15, 2016
In this newsletter, we recap the end of 2015 and the release of The GPUltima. We also discuss what's to come in 2016 with the 6 trade shows at which we'll be exhibiting this year.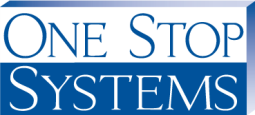 Expanding the Limits of HPC
In 2015, One Stop Systems released our newest product, 
The GPUltima.
If you missed seeing the GPUltima at SC15, we will be showing the system again at several shows this year. Keep a look out for pre-show announcements. 
The GPUltima is a petaflop computational cluster in a rack that contains up to eight nodes with each node containing up to 16 accelerators and one or two dual-socket servers. Customers can build up to the full rack, one node at a time, depending on their application requirements. Multiple nodes provide different performance capabilities, dependent on the number accelerators employed. Highly complex algorithmic applications that require optimum processing speed, like deep learning may best benefit from a full petaflop solution where the work can be distributed over a greater number of accelerators. Applications with a less computational complex workflow can employ a solution with fewer accelerators. Learn more
here
.
We'll be back at many of the same shows as last year, with one or two new additions. Be sure to check our event page for detailed information on all of our 2016 trade shows. Click on the logo for each show to learn more information.
Rice University Oil and Gas HPC
March 2-3
GTC 2016 
April 4-7
NAB 2016
April 16-21
NETC 2016
June 6-9
ISC 2016
June 19-23
Flash Memory Summit 2016
August 9-11
From San Diego to Frankfurt Germany, One Stop Systems exhibited at 8 industry trade shows in 2015. Here's a look back at some of the shows. 
Rice University Oil and Gas
GTC 2015
ISC 2015
SC15