Mar 17, 2016
In this newsletter, we talk about the Oil and Gas Conference at Rice University earlier this month and the  upcoming GTC show. We also link to an article on InsideHPC about flash storage arrays in HPC.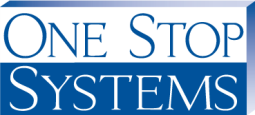 Expanding the Limits of HPC
Rice University Oil and Gas Conference
In the beginning of March, One Stop Systems showed the GPUltima at the Rice University Oil and Gas Conference. The GPUltima is a petaflop computational cluster in a rack that contains up to eight nodes with each node containing up to 16 accelerators and one or two dual-socket servers. The full rack can house up to 128 dual wide GPUs. Customers can build up to the full rack, one node at a time, depending on the number of GPUs required.
Flash Storage Arrays in HPC Applications
In this week's Sponsored Post, Katie Garrison of One Stop Systems explains how Flash storage arrays are becoming more accessible as the economics of Flash becomes more attractive. "Comprised of a unique combination of a Haswell-based engine and 200TB Flash arrays, the FSA-SAN can be increased to a petabyte of storage with additional Flash arrays. Each 200TB array delivers 16 million IOPS, making it the ideal platform for high-speed data recording and processing with lightning fast data response time, high-availability and flexibility in the cloud." Read the full article on InsideHPC.
GPU Technology Conference (GTC) 2016
We are excited to be exhibiting at the GTC, the most important GPU developer conference, taking place April 4-7, 2016, in San Jose. A key highlight this year is the growing revolution in deep learning that can affect every aspect of computing. Register at www.gputechconf.com using code FF16X20 for 20% off.