May 31, 2016
In this newsletter, we talk about the upcoming NETC 2016 and ISC 2016 shows. We also introduce our newest HPC application, Video Storage which utilizes our Flash Storage Array (FSA) to store large amounts of 4K and 8K video.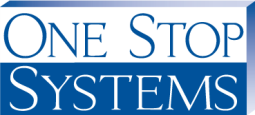 Expanding the Limits of HPC
OSS Exhibits at National Extension Technology Conference (NETC) 2016
Kissimmee, FL. June 6th to 9th - One Stop Systems will be showcasing our 3U GPU and Flash Memory Expansion Appliances at the National Extension Technology Conference (NETC) so be sure to stop by our table the show to learn how our products can help your University or Extension program. One Stop Systems has contributed an EVGA GeForce GTX 960 SSC to the door prize at the conference. The National Extension Technology Community is the virtual organization formed to promote and sustain the National Extension Technology Conference. It is an organization for employees within the Cooperative Extension System, and any land-grant university, who utilize information technology for higher and continuing education. The annual conference started in 1986, and was held in Blacksburg, VA. Each year, the conference provides an opportunity for sharing and learning about innovative types and uses of information technology.
Newest HPC Application: Video Storage
In 2003, the first commercial 4K camera was released. Ten years later, Google released a new video coding format called VP9 specifically for 4K video. A few years from now, most people will have a 4K capable TV in their house. When it comes to filming in 4K, it requires a much larger amount of storage space than older video formats. There are a lot of factors to consider when determining how many GB or TB of storage is needed when shooting in 4K: how many cameras, how many hours the cameras will be shooting, frames per second, video compression type, etc. "One hour of standard definition DV footage requires approximately 12.7GB of storage; approximately 217MB per minute. By comparison, one hour of RAW 4K content requires close to 110GB of storage; approximately 2GB per minute." If a single Hollywood movie has more than 200 hours of raw footage, that equates to more than 22TB of data before any post production work has been done. With the emerging large format 8K UHDTV standard, that storage requirement is expanding even further.
Learn More About the FSA and Video Storage
International Supercomputing Conference (ISC) 2016
ISC is an IEEE-recognized key global conference and exhibition for high performance computing, networking and storage. At ISC, you can connect with 300 expert speakers who can share their perspectives on the latest developments in high performance computing. In 2016 we offer you another dynamic and power-packed event. We will focus on HPC technological development and its application in scientific fields, as well as its adoption in commercial environments. One Stop Systems will be exhibiting at ISC16 on June 20-23, 2016. We will be showcasing our newest high performance computing product, The GPUltima, which is a petaflop-in-a-rack networked GPU cluster.
Be sure to stop by Booth #821 to see The GPUltima!